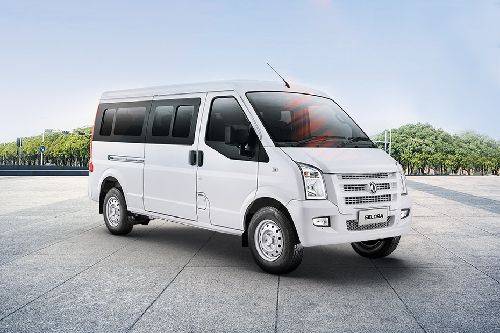 DFSK Gelora
DP: Rp 43,75 Million
EMI Rp 3,99 Million x 36 Months
SRP : Rp 175 - 201.9 Million
DFSK Gelora 2023 Colors and Images
View DFSK Gelora 2023 interior, exterior & road test images. Gelora 2023 is available in 1 different colors.
DFSK Gelora 2023 Exterior
DFSK Gelora 2023 has 11 images of its exterior, top Gelora 2023 interior images include Front Angle Low View, Side View, Rear Cross Side View, Full Front View, Full Rear View, Grille View, Headlight, Tail Light, Front Side View, Rear Medium View and Front Angle High View etc.
Front Left Side

Side View (Left)

Rear Left View

Front View

Rear view

Grille

Headlight

Taillight

Front Left View Angle

Rear Medium View

Front Angle High View
DFSK Gelora 2023 Interior
DFSK Gelora 2023 has 10 images of its interior, top Gelora 2023 interior images include Dashboard View, Steering Wheel, Tachometer, Rear Seats, Courtesy Lamps, Richbrook Competition Foot Pedal Set, Gear Shifter, Glove Box, Front Ac Controls and Door Handle Interior etc.
DashBoard

Steering Wheel

Instrument Cluster

Rear Seats

Rear View Mirror/Courtesy Lamps

Pedals

Gear Shifter

Glovebox (Closed)

AC Controls

Door Handle Interior
DFSK Gelora 2023 Colors
DFSK Gelora is available in 1 different colors - White
White
DFSK Gelora Price, Promos, DP & Monthly Installment
Discover New Cars
City-car Cars
SRP : IDR 159.1 - 243.9 Million

DP : IDR 43.3 Million, EMI : IDR 3.95 Million x 36

Honda Brio price

SRP : IDR 236.6 - 343 Million

DP : IDR 59.15 Million, EMI : IDR 5.4 Million x 36

Kia Sonet price

SRP : IDR 307.5 - 325.1 Million

DP : IDR 76.88 Million, EMI : IDR 7.02 Million x 36

Toyota Yaris price

SRP : IDR 525.3 - 684.6 Million

DP : IDR 171.15 Million, EMI : IDR 15.62 Million x 36

Honda CRV price

SRP : IDR 270.5 - 301.5 Million

DP : IDR 67.62 Million, EMI : IDR 6.17 Million x 36

Nissan Magnite price
Find Second Hand Cars By City
Compare DFSK Gelora with Alternatives
Second Hand Cars Similar to Gelora
Second Hand DFSK Cars
Second Hand DFSK Cars
4 Used Cars Available

Starts @ Rp 138,99 Million

8 Used Cars Available

Starts @ Rp 235 Million

7 Used Cars Available

Starts @ Rp 252 Million